This week we had a potluck with a bunch of other families one evening before church. I like to bring dishes that are tasty, snack-able, easy to make, and not too expensive to put together. This slow cooker broccoli cheese dip was a slam-dunk!
What makes this broccoli cheese dip recipe unique is that I add a sprinkling of crunchy bacon crumbles on top at the very end. I like to serve it with thin slices of sourdough bread or crisp fresh veggie sticks. Check out the recipe video!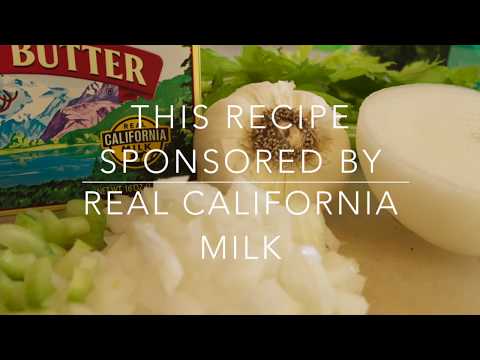 As an added bonus, if you choose to make this dip with Real California Cheese between now and December 31, 2017, you'll be contributing to the support efforts for hurricanes Irma and Harvey. In response to the recent devastation, Real California Milk is generously contributing $5 to the Great American Milk Drive every time someone shares a photo of the Real California Milk seal, with the hashtag #SealsForGood. The donations will be a huge help to the families affected by Hurricane Irma and Hurricane Harvey in Florida and Texas. There's no purchase necessary, so it's an easy way to join the relief efforts! Check out the Great American Milk page to learn more.
My recipe for broccoli cheese dip uses cheese and butter, both of which are Real California Milk products because they're made with wholesome milk that's not overly processed.
Making Slow Cooker Broccoli Cheese Dip  
First you saute the veggies to bring out their flavor and soften them up a bit.
The veggies go into a slow cooker, then you stir in the broccoli, cheese, and cream of celery soup. Add a dash of salt and pepper and mix everything up well. 
Set the slow cooker on high for 2 hours or low for 3 ½  to 4 hours. When it's done, just spoon it into a bowl with some bread, chips or veggie sticks for dipping.
This dip works great for a family event, potluck, or a big game with lots of people over. It makes enough for a large crowd, and it's pretty filling too!  
After the tragic destruction left from the recent hurricanes, I appreciate the opportunity to partner with Real California Milk in the relief efforts for families in Texas and Florida. You can find products with the Real California Milk seal in stores all over the U.S., so anyone can participate in the Great American Milk Drive. We are big cheese eaters, but the seal is also on other dairy products like butter, cottage cheese, cheese, and yogurt. Which dairy product will you look for in stores? And don't forget the share a photo of the seal!
Slow Cooker Broccoli Cheese Dip Recipe
This recipe is great for a potluck or big game party. Serve the broccoli cheese dip with celery sticks, chips, or slices of firm sourdough bread.
Ingredients
2 Tbsp. butter
1/4 cup diced broccoli
1 or 2 cloves minced garlic
1 stalk of celery, diced
2 Tbsp. flour
1 can cream of celery soup
1 1/2 cups shredded cheddar cheese
10 oz. bag frozen broccoli, defrosted
3 green onions, sliced
2 strips cooked, crumbled bacon
Instructions
Melt the butter in a medium saute pan.
Add the onions, garlic, and celery and cook until soft and onions turn translucent (about 5-7 minutes)
Stir in 2 Tbsp. flour
In a 4-quart slow cooker, stir together the cooked veggie mix, cheese, broccoli, and cream of celery soup.
Cook on high heat for 2 hours or low heat for 4 hours. Serve warm.
https://www.simplysweetdays.com/slow-cooker-broccoli-cheese-dip-recipe/
SimplySweetDays.com