This shop has been compensated by Collective Bias, Inc. and its advertiser. All opinions are mine alone. #FreeToBe #CollectiveBias

In my younger years I spent as much time as I could at the beach. It was so easy back then – I'd just grab my sarong and sunscreen and be out the door in minutes. Now that I'm a mom of 4, getting everyone to the beach and back home is a lot more work than it used to be! We've gotten pretty good at having a routine in place for packing our supplies for the trip and taking care of our summer things so they will last longer.
Whether your family makes frequent beach trips or just one or two a year, you will find useful takeaways in these tips for a fantastic beach trip.
Tips for a Fantastic Beach Trip
Stay sun safe
Young children need plenty of sun protection. Use sunscreen with an SPF of at least 30 that is waterproof and protects from both UVA and UVB rays. Babies and toddlers should wear a swim shirt and hat for added protection.
Let there be shade
Bring a UV-blocking shade or umbrella to give your hot little kiddos a break from the sun. We have this great little tent (I mentioned it in this post about keeping babies sun safe) that we bring along when we're going to be at the beach all day. It's lighter and easier to carry than an umbrella, and all 3 little guys can fit inside.
Take care of your little one's feet
Water shoes are great for babies and toddlers because the hot sand can burn their little feet. Children who are too small for flip flops can still play in the sand with these shoes on. But when sand gets in these shoes it can cause blisters. We put these on the little one when he wants to run around. Our 3 year olds would wear flip flops to walk across the hot sand. When they got to the cool, wet sand by the water they were fine in their bare feet.
Stay cool and hydrated
Bring water for everyone, and make sure they drink it! You can freeze one water bottle the night before to use as an ice pack, then as it thaws it's a nice refreshing drink. We freeze Capri Sun drinks for the kids too. They usually defrost pretty quickly on a hot day. Everything gets packed in a big mesh beach bag. We've used that bag for our grab and go summer beach bag for over 2 years! Well worth the $17.
Protect your valuables
Keep your cell phone free of sand and water damage by storing it in a zip-top bag while you're at the beach. Other small things like keys and jewelry can be zipped up as well to make sure they don't get lost in the sand.
Keep your energy up
Pack high-protein snacks to keep kids (and parents) energized for a long day of sand and sun. Try celery sticks with peanut butter, cheese sticks, or trail mix. We also like to bring whole wheat graham crackers and fresh fruit to satisfy our cravings for sweets.
Leave only footprints
8 million tons of plastic enters the ocean each year. Bring a small bag to collect your wrappers and other trash, or pack trash back away with your belongings to throw out when you are near a trash can.
Entertain little ones too small for the waves
This is quite possibly one of my favorite tips for a fantastic beach trip of all time. My number one recommendation for parents is to bring a small shovel (we use a medium-sized garden spade shovel like this one from Home Depot) and use it to dig a wide, shallow hole. If you dig near the ocean, occasional waves will fill it with water. Youngsters who are too small to venture out into the waves can play in this little "kiddie pool" without having to worry about waves knocking them down. Every time we dig a hole at the beach, other kids end up joining us in the "pool"! Our little ones are now 4 and 6, and we still dig a hole every time we go to the beach. They love it!
Ban sand from the house
Once sand gets in the house, it can get tracked everywhere. Carry sandy toys to and from the beach in a open-weave basket or mesh bag. Shake excess sand from towels before getting in the car. Remove sand from your skin by shaking a little baby powder or cornstarch onto sandy hands and feet and the sand will brush right off. Rinse sand off of boogie boards, feet, and hair with the hose at home.
Wash people and laundry ASAP
Salt water and sand can really damage your laundry. Everyone will surely want to bathe right away, but don't forget to clean all those beach towels and swimsuit cover-ups. We use all® free clear detergent and all® free clear fabric softener because I get allergies at unpredictable times of the year. Plus the all® free clear fabric softener makes our towels feel super soft! We buy ours at the Albertsons just down the street from us.
Take care of your swimsuit
You can prolong the fresh bright color of your swimsuits by washing them thoroughly once you get home. Here is how I make sure to get the most sand out of my suits after a beach trip.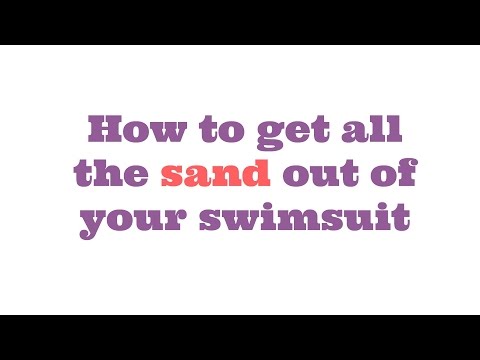 Rinse and dry your swimsuit completely.
The next day shake the excess sand out of your swimsuit and scrub it in the sink with all® free clear detergent.
Rinse your suit again.
Add your suit to a regular load of laundry and wash as usual with all® free clear detergent and all® free clear fabric softener (be sure to follow the directions for use on the packaging exactly).
Swimsuits are not cheap. Thankfully, all® free clear helps preserve the look and life of swimsuits because it fights stains and brightens colors. all® free clear detergent and all® free clear fabric softener also get rid of 99% of allergens*, including cat and dog dander, dust mite matter, ragweed, grass, and tree pollen. Visit the all® free clear community and learn more about the brand's allergy removal benefits! Plenty of other moms have great stuff to say about living free from sensitive skin worries. Stop by the hub for more #FreeToBe summer tips and tutorials.
While a trip to the beach is still a lot of work, we manage to make it stress-free by preparing well before we go. It helps to also have a system in place for cleaning up afterwards. Going to the beach is our favorite summer activity, but we find ourselves at the shore even during the off-season. It's a great place to people-watch and enjoy nature.
How do you have fun all year long?
*all® free clear is not intended to treat or prevent allergies.