We had a busy Saturday. To start it off, the kids got up much earlier than they usually do. This ended up being fine because we had big plans for the morning: Our Breakfast with Santa! This is an event that our church puts on every year. There are crafts for the kids, carols, silly games, a fantastic hot cocoa bar, a hot pancake breakfast, all topped off by a visit from the big guy himself. It's such a treat for our little guys! 
Breakfast with Santa 2018
The crafts this year were really cute. Johnny made a "baby Jesus" swaddled in a blanket while Madeline and Emily worked at another table making fruit loop necklaces. The strings were licorice ropes, so the whole thing was edible. Those did not last long! By the end, one more girl had made a baby Jesus and all 3 decorated pinecones with glitter and other crafty add-ons. 
We thought the pancake breakfast was a hit. The centerpieces included photo booth-style props that kept the girls entertained. I took half a dozen photos of them holding up various holiday props.
The group game was to dress someone at your table as a Christmas tree, and somehow Madeline was nominated to be the tree. I bet if you stood her next to the tree in our living room you wouldn't know which is the fir and which is the girl, right? 😉
After all that food and fun we were so excited to see the jolly old elf. After all, he is the most important part of the whole breakfast with Santa event. It all went by so quickly, I didn't get a chance to hear if the kids confessed to being naughty or nice. I'll vouch for them though, they've been nice almost all year long. Related: Last Year's Breakfast with Santa, titled "We Only Behave for Santa" 
Personally, the busy morning wiped me out. I've been fighting a bug anyway, so the rest of the afternoon was spent lazily working on decorating our tree and watching Christmas movies. There's no rest for the weary though, because soon it was time to head to the Christmas parade!
I loaded up kids, hats, and gloves into our wagon that I take everywhere, and rolled everyone the half-mile to main street. It was so much fun watching the parade that I didn't get many pictures, so here's a short video!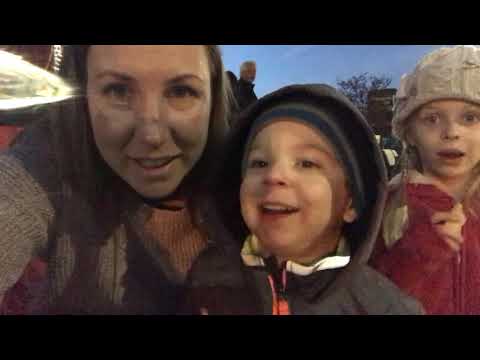 As I write this, the first day of December is coming to a close. I am so looking forward to the next 24 days of the holiday season and all the fun we're going to have! Happy holidays, friends!