This shop has been compensated by Collective Bias, Inc. and its advertiser The National Milk Life Campaign. All opinions are mine alone. #MyMilkMyWay #CollectiveBias
It's true what they say: Breakfast is the most important meal of the day! As a working mom with 3 small children, I have to make sure I take care of myself. Having a good breakfast is especially important on those days when I feel like I don't have time to make one. My blueberry breakfast smoothie is seriously easy to make, and it's got lots of nutrition to keep me going on long days.  
I'm not on a low-carb diet by any means, but one thing I've learned is that protein is essential to keeping me energized throughout the day. Breakfast can so often be a meal of empty carbs: muffins, bagels, coffee… But add in a protein and it's much better for you! 
Milk Meets Our Nutritional Needs
With 3 children under 5, milk is a staple for our family. My little ones are still growing, and milk is a great source of calcium, potassium and vitamin D. These are nutrients that their little bodies need to grow big and strong. How else could they be filled with energy at 8:00 at night? Clearly, this is the best time of the day (night?) for making cardboard box race cars. 
Our fridge is always stocked with milk because of the my kids, and also because it is the perfect protein for a frugal family. Dairy milk protein is a complete protein, which means that it has all the amino acids we need for a balanced diet. One gallon of milk easily feeds the 6 of us, and costs about a quarter per serving for the little guys.  
The Littles are Milk-Obsessed
All 3 of my little ones love milk. They get a kick out of getting a glass of milk and exclaiming at how cold it is. On a hot day, it just hits the spot. Milk is the top food source for nutrients that are most likely missing from some kids' – diets (calcium and vitamin D, among others). An 8 ounce glass of milk contains 8 grams of protein, so milk is a simple, affordable way to help my family get the natural protein and balanced nutrition they need. Find more milk recipes and inspiration at MilkLife.com!
What if you could give your kids a nutrient-rich, delicious, farm fresh beverage with natural protein and no sugar added – all for about a quarter per serving? Surprise – it's something that's likely already in your fridge – white milk!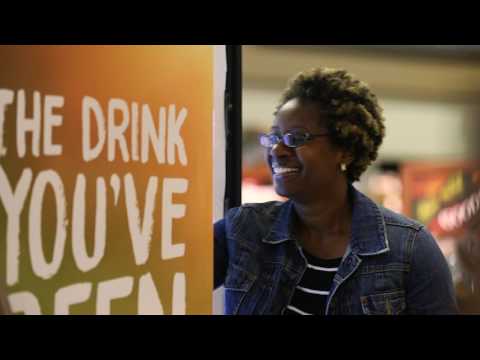 The Milk-Based Blueberry Breakfast Smoothie
Our family enjoys cereal with milk, and I do too. But some days it's nice to change things up a bit. As much as I'd love to make a hot breakfast every morning, we're usually blasting out the door to school and work. There's just not time for that. I have a simple solution though. A blueberry breakfast smoothie packs protein and antioxidants, plus lots of vitamins, all in one quickly devoured beverage! This recipe uses about 6 ounces of milk, which is about 6 ounces of protein. You should make sure that you're getting your daily servings of protein based on your age and body weight.
Just put milk in the blender and add bananas.
Then blueberries. 
Blend it all together, and you're good to go!  
What's your favorite way to enjoy milk? Share in the comments below!
Blueberry Breakfast Smoothie
Ingredients
2/3 cup milk
1 banana, sliced
2/3 cup fresh blueberries
Mint (optional)
Instructions
Place all ingredients in the blender and blend until smooth. Garnish with mint and more blueberries, if desired.
https://www.simplysweetdays.com/blueberry-breakfast-smoothie/
SimplySweetDays.com
And don't forget to pin this recipe for later!