This was a big day for us. The twins have been looking forward to meeting the big red-coated guy from the North Pole for days, and today he was coming to our town! My kids are usually a little bonkers, but thank goodness they had it in them to smile pretty and behave for Santa when the cameras were on them. 
Every year our church puts on a big "Breakfast with Santa" event. 2 staff members dress in elf costumes and emcee the morning's festivities. There is so going on, the kids don't have a spare second to get bored. Unfortunately, we didn't have Logan with us because he was with his dad. Part of the reason I make our YouTube videos is so he can still get to see the family stuff he misses out on while he's at his dad's. 
We started off at the hot chocolate bar, where John loaded up the kids' cups with warm cocoa, marshmallows, candy canes, and whipped cream.
Next came breakfast. We headed down the buffet line and filled our plates with pancakes, eggs, Gogurts, and orange juice. Well, the Gogurts were really just for the kids. At this point, the kids had downed hot cocoa, a candy cane, syrupy pancakes, and they were starting to jitter from sugar overload. This seemed like a good time to take them to the craft area so they could do terrible things with glitter.
To John's relief, the girls never made it to the glitter craft. Madeline and Emily both made a snowman from a paint stir stick. It turned out so cute! Johnny was happy at the coloring table, which was great because he's still a little young for crafts.
Meeting Santa: The Grand Finale
The elf emcees led us in some caroling. Then, encouraged by the applause form kids and parents, Santa came out to meet the children. We did have to wait n line a while to see him, but I didn't mind because we had a nice chat with the families before and after us.
The kids were wonderful for Santa, smiling adorably for a picture and telling him what they wanted for Christmas. Apparently Elsa dolls are still cool (to my kids, at least).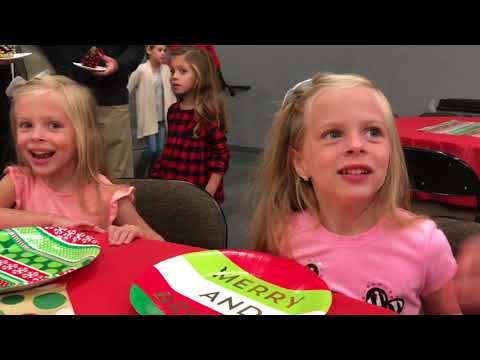 At the end, we took our tired, hopped-up-on-sugar kids home. I know they'll be talking about this day for a long time. I was so thankful to have John with me to help with the little ones because this day would have been much more stressful without him. Hopefully today helped to build memories for our children that they will treasure for years to come. Next up on our family adventures is our annual Christmas Lights Scavenger Hunt!