We're trying to do a family staycation this week but our budget is pretty tight since I'm not working right now. We wanted to do something fun but not too expensive so we planned a day outing with some friends to visit Torrey Pines State Park in San Diego.
Exploring Torrey Pines State Park with Kids
We packed a lunch and brought our own water and snacks, since there isn't any place to buy food there anyway. Parking costed $15 at the time. The kids in our group ranged from ages 7 to 2, and they had a lot of fun exploring the park. You can catch an overview of our adventure in this video.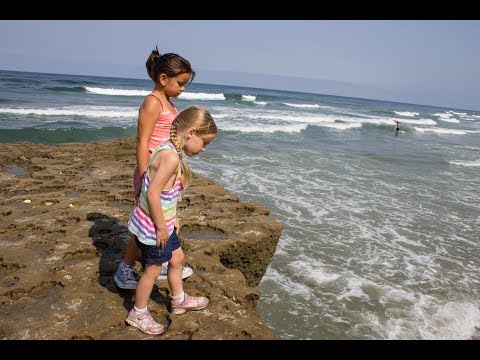 The Hike
There are several trails that weave through the park. We chose a short ¾ mile hike down to the beach. You pass a big reddish craggly rock, which is perfect for kids to scramble around on. There is a primitive bench to take a break on at 2 different spots along the trail  overlooking the gorgeous coastline.
On the trip to the beach, it's all downhill and there is a nice breeze. But beware, the trip back is uphill and the wind is behind you so you don't really feel it. It's a lot hotter on the way back! The girls got a little cranky near the end but they were able to complete the hike. Johnny had to be carried about halfway through the return trip.
The Beach
As long as it's not high tide you can walk pretty far down the stretch of grey-black sand. It's a State Park, so you aren't supposed to take shells or rocks home with you.
 A large boulder sticks out into the surf and the waves splash against it on the ocean side. The rock is home to crabs, anemones, and shellfish. There is a lot for kids to see here. 
The Visitor Center
Torrey Pines docents shared artifacts with us, and let the kids touch and pick them up. Torrey Pines State Park is a unique place because the Torrey Pines trees are almost extinct. They can only be found at this park and on one of the Channel Islands just off the coast of Southern California. They are a fascinating-looking species, don't you think?   
I was raised in San Diego, so this park has been a place I visited often as a child. If you plan to visit San Diego, you have got to make time to see this park (after you take the kids to LegoLand, of course 😉 . The gentle San Diego weather makes it cool but not hot almost all year long. Expect fog in the mornings and late afternoons, and hot sunshine midday during the summer.
Let me know if you have been or plan to go to San Diego!