This shop has been compensated by Collective Bias, Inc. and its advertiser. All opinions are mine alone. #RoadTripOil #CollectiveBias
When I was little, my parents would take us on long road trips to visit family along the west coast. We'd pile in our big old suburban and trek all the way from San Diego to Seattle, stopping to see aunts and uncles along the way. Back then we didn't have tablets or portable DVDs to keep us entertained on long stretches in the car. So we brought "busy bins" filled with things to occupy us on the drive. In a few weeks I'll be traveling to Las Vegas by car, and I was thinking that this is the perfect time to make my own version of a busy bin for our road trip with kids! Check out the video at the bottom of this post to see it in action.
We Always Prep Our Car for a Road Trip with Kids
When you're traveling with kids, there is so much advanced planning to take care of. We always make sure our car is ready for the road by getting it checked by a professional. Our big family minivan has seen better days, but thankfully the Pennzoil® High Mileage oil change was on rollback at our local Walmart! Visit the Walmart Rollback page to find locations and services in your area. 
Our oil change at the Walmart Automotive Care Center included Pennzoil® High Mileage Vehicle® motor oil which is specifically designed for new or late model vehicles with over 75,000 miles. I love that it helps clean out sludge that lesser oils leave behind. The experts at the Automotive Care Center also inspect all over the car. We had tires, battery, blinkers and headlights tested and checked, giving me peace of mind before heading out on our trip. 
What Goes in My Busy Bin
I'm not anti-electronic devices, as you may already know from our post about the tablets we got for the twins. Still, I want my preschoolers to be doing active play and using their imaginations as much as possible. I was trying to come up with things for them to do in the car that didn't involve screens. Enter the "Busy Bin":
First, you need a plastic bucket or wash tub. Our twins are sharing theirs so I drew a line down the middle so they each have their own side (because, siblings). 
Stock it with snacks that your kids can open on their own. We put in fruit gummies, popcorn, a juice drink, and some fruit pouches. 
Throw in plenty of stickers that your children can use to decorate the bucket. 
For a special treat, add a new toy! Our girls love blind bags so I put in 2 of those, plus some little dolls. They couldn't wait to start playing with these toys, so I knew the girls would be busy playing instead of asking for a tablet.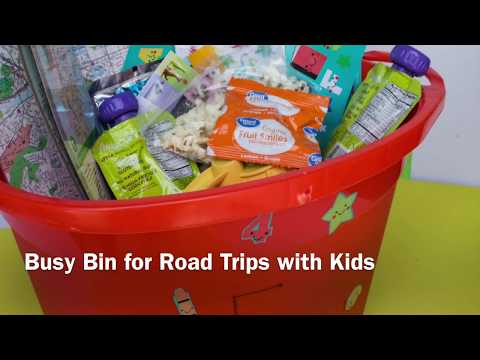 Take Care of All Your Road Trip Prep in One Place
This busy mom doesn't have time to make multiple stops. After dropping my car off for an oil change at Walmart's Automotive Care Center, I was able to get everything I needed for making a busy bucket while at the store! I found a treat for each girl in the toys section, plenty of sticker options in the crafts & party supplies section, and snacks in the food section.
I let the experts make my life easier so I can get my oil changed while I shop! I'm saving time AND money when I get my oil change on Rollback. What road trip must-have would you shop for at Walmart while you wait?