It's been 14 years since we last heard from Mr. Incredible and his family. I am thrilled that they finally made their reappearance on the big screen! After we saw the Incredibles 2, my kids couldn't wait to keep the superhero fun going. I've added some "Super" activities to this post for you to enjoy and share with your family and friends. Don't miss the printable activities and coloring pages at the bottom of the post!
Incredibles 2 Movie
Even before the movie came out, I was looking forward to how it would showcase more of Elastigirl's experience. She came through with a fantastic storyline and some unexpected driving skills! I could totally relate to her stress as a working-mom when she's ready to drop her superhero job at a moment's notice when she thinks her kids might need her. But Mr. Incredible handles that stay-at-home-dad gig like a pro, as so many dads do these days. 😉 I thought it was kind of funny that the evil villain in this movie uses screens and devices to rage his attacks on Metroville. (See, kids? Screens are evil!). Edna, one of my favorite characters, returns as the Incredibles' exclusive super suit designer-and babysitter-extraordinaire. And we get to see Jack-Jack's powers start to emerge while his mom is away at work. Poor Mr. Incredible sure has his hands full with this baby! Incredibles 2 picks up at the exact point in time when the last movie left off. I loved that, because in my heart I just want the story to keep on going forever.
Incredibles 2 Activities
Bring your favorite movie memories home with these fun activities!
Incredibles 2 DIY Mask
We made Incredibles masks to wear around the house as the kids fight each other crime. The 3 year old loved the masks the most. Now, of course, he's demanding a costume to go with it. Since it's still several months until Halloween, we'll see what I come up with in the meantime.
Incredibles Superhero Mask Materials:
Black felt (at least 2 mm thick)
1/8 inch elastic ribbon
Scissors
Mask template (print out this one or make your own)
Chalk – can use tailor's chalk, but I just used regular sidewalk chalk and it worked fine 🙂
Print the mask template. Cut out the mask and trace it onto the black felt. Cut the mask from the felt and cut 2 small slits in either end for the elastic. Measure the elastic to fit your child's head and tie it into the mask slits.
Here's a quick tutorial video.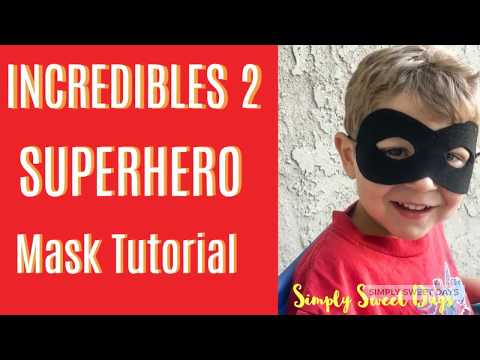 Another thing you can do to keep the fun going is add some Incredibles 2 games to your digital library. My hubby is a gamer, but I have the gaming skills of a 7-year-old. Actually, 7-year-olds are probably better than me at handling a game controller! We do like to play games together sometimes, so we ordered the LEGO Incredibles game to play on our console. As a teacher, I'm probably expected to frown on things like video games but this one is so much fun!
Be sure and print out some of these awesome coloring and activity pages as well! For best results, right-click the thumbnail and print the image from the full-size page.