Last week I did something I never thought I'd do. I, the master planner of all things, threw caution to the wind and suitcases in the car and hit the road. Armed with a seven-year-old, tattered map of California and our cell phones, my husband and I set out for a trek across the state. Having only a vague idea of which highway we would take, and with two days to travel 800 miles, we embarked upon the most arduous and memorable vacation so far in our marriage. 
We had been planning to go see John's family sometime over the summer, but it was pretty spur-of-the-moment when we actually decided to leave town. Logan was at his dad's for half the summer, and there was just no reasonable time slot we could use for the trip once he got back. We packed the little guys in the car at 6 pm with plenty of blankies and pillows. We had an end goal in mind: To make it to John's dad's house, over 750 miles away.  
First stop: 8 hours of driving to Oakland, CA
Driving until 3:30 am brought us to my brother-in-law's house feeling sleepy and grateful for his hospitality. Unfortunately, we weren't in the bay area long enough to do anything exciting. We spent the morning with John's brother and his kids but said our goodbyes after lunch and piled back in the car. 
Second stop: 1 hour of driving to Sonoma, CA
 We did the touristy stuff in Sonoma, taking the kids to the Sonoma Train Town Railroad. After that we went downtown and enjoyed delicious specialty pizza at Mary's Pizza Shack, followed by a trip to Sweet Scoops ice cream for dessert. Then back to the car for the next drive!  
Third stop: 3.5 hours of driving to Redding, CA
 Here we checked in to a Comfort Suites room and, bliss! We rested easy on soft pillows for the night. We chose this hotel because it offered a hot breakfast, so after showers/baths and a big meal we left town. We were just stopping for the night so we wouldn't have so far to drive the next day.
Fourth stop: 2.5 hours to Grandpa's house in Modoc County, CA    
We finally arrived at our vacation destination on Friday afternoon, after almost 48 hours of on-and-off driving and travelling. We stayed until Monday, enjoying some special time with grandpa.  
We went to a nearby creek and the little guys had a ball throwing pebbles in the water.  
The girls fed chickens     
and collected eggs from the nests.    
We took a day trip and had a picnic at Blue Lake in Modoc National Forest, where the kids splashed in the water and threw rocks in the lake.     
After 3 wonderful days with grandpa, we had to say goodbye and start the long trip back home.
Fifth stop: 4.5 hours to Lake Tahoe, CA      
We weren't sure just what to do for the return trip. We had taken the 5 freeway to northern California, and wanted to take a different route home. We opted to take the eastern route along the scenic highway 395, which is actually shorter (but there are fewer family members along this path). There are some nice things to see and places to visit on this route, like Lake Tahoe, Mammoth, and, if we were interested in a pretty hefty detour, Yosemite. We stayed one night in Tahoe, where John's youngest brother lives, and checked out the lake one day.          
The next day we hiked down a 1-mile path to the breathtakingly beautiful Emerald Bay. Baby John and his sisters were mostly interested in throwing rocks in the water (are we noticing a trend here?).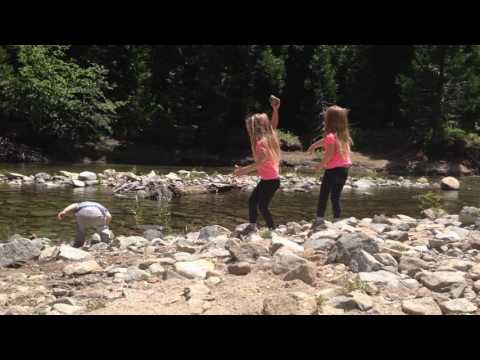 I told the girls that Vikingsholm was Anna and Elsa's castle in Arendelle but once they saw it they weren't convinced. It was a good ploy to get them down the trail, but getting them back up again… That was tricky. Note to self: Think twice before taking 3 children ages 3 and under on a 1-mile walk uphill. Yeesh. Thankfully there were plenty of "baby waterfalls" to motivate them onward.
By mid afternoon we had seen all we could of Emerald Bay and were ready to go home.   
Sixth and final stop: 8.5 hours to home in San Diego, CA  
If you had asked me 2 weeks ago, I would have told you I could never make it through 7 days of living out of suitcases and no predictable routine for our little ones. We had only 2 planned stops: Oakland and Modoc county. The rest were spur-of-the-moment "let's check this place out" stops. Of course, there were plenty of stops for meals, leg stretches, and bathroom breaks.
Being spontaneous is terrifying to me. It's totally out of my comfort zone and I went and did it anyway. And you know what? I think it was the best 7 days I've had in a long time.