Disclosure: I received free products in order to host a Disney Kids Preschool Playdate. The opinions expressed here are my own.
2 weeks ago a big box arrived at our door with an official-looking "Walt Disney World" sticker sealing it closed. I knew what was inside but waited until the kids were all together (and the living room was a little tidier) to share the contents with my family. Watch our unboxing video here.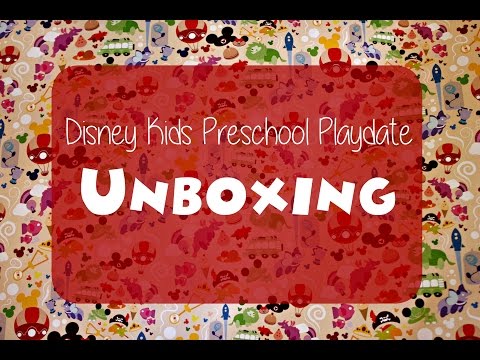 I was offered the opportunity to host a Disney Kids Preschool Playdate by the creative geniuses at Disney. Armed with loads of Disney goodies, I set out to plan a fun day for preschoolers and their parents. But I can't take all the credit. My amazing friend Niki (YouTuber at Kidz Toy Vidz) helped by gathering a few extra friends and even more goodies! Here is a run-down of our event:
Location:
The playdate was held at a park that is pretty central to everyone. My place is just a wee bit too small for having company over. Plus, the weather is almost always good here in San Diego, so I was sure I could count on it being a nice sunny day. After their snacks and fun, kids got to play on the playground while the moms visited.
Food and drinks:
Just your basic grab 'n go snacks for little ones. Bagged popcorn, grapes, chips, and little 'cutie' oranges. A big container or punch  with these Mickey crazy straws (affiliate link).
One of the moms also brought some deliciously itty bitty cupcakes with confetti-style frosting to share. Thank you!
#DisneyKids Games and activities:
The event kicked off with and Easter egg hunt. Colorful plastic eggs filled with candy were scattered (in plain sight 😉 all over the grass by our tables. Niki's great idea was for children to get a card indicating how many of each color egg they needed to find. Disney sent us the cute backpack bags that were used to hold all the Easter eggs.
After the egg hunt there was still plenty to do. Children could assemble their own reversible tiara/pirate hat, make a Mickey bag craft, put on a Lion Guard tattoo, or go on an adventure using their map/placemat to guide them.  
Looking back and looking forward to our next preschool playdate:
Probably the only downfall to having a playdate at a park is that there isn't a lot of table space. There was one big picnic table at the park and, thankfully, Niki brought an extra card table. Still, moms needed a place to put their purses and diaper bags, and kids could have used a little more surface area for making crafts or eating a snack. Also, it would have been more convenient if we'd had a trash can nearby. One mom was kind enough to let us hang a trash bag from a hook on her stroller, which worked out fine. Next time (and yes, we are already thinking about a "next time!") I'd want to make sure I have a better plan for all that stuff.
Thank you MomSelect and Walt Disney World Resort for choosing me to be a #DisneyKids Preschool Playdate!