We don't mess around with spending a lot of money on our kids. When we buy them a present, we do our research to make sure we're getting something that will last, is the best available price, and that they will actually use. Last year for their birthday we got the twins a version of Amazon's Kindle Fire for kids. It's just like a regular Kindle Fire tablet, but it's the kids edition. We've spent 9 months using their tablets and have found so many cool little things that I had no idea were even available!  
5 Reasons why we Love the Kindle Fire Kids Edition
The practically bulletproof case
Ok, this one we knew about before buying the Kindles because the "kid-proof" case was the #1 selling point for us. My kids drop/break/accidentally maim and harangue everything. Yesterday Johnny put my camera's SD card in a glass of water! Just plopped it in there like he was doing me a favor. Obviously, we have to be on them, 24/7 or they'd tear the house apart. The Kindle Fire Kids Edition comes with a 2-year worry-free guarantee. 9 months after we got them, and the tablets are still in one piece. I guess they're stronger than my kids' appetite for destruction!
The apps
My 4-year-old girls love the apps that come with the Kindle Fire Kids Edition. The PBS kids app lets them watch their favorite PBS shows. There are lots of other apps with all their favorite characters: Disney, Barbie, Dora, Hello Kitty, Bubble Guppies, and Strawberry Shortcake just to name a few. The Toca Boca apps are always in their top 5. One of Emily's favorites is Pet Doctor, a game where you give bandaids and snacks to pets with "owies". Check out my video review!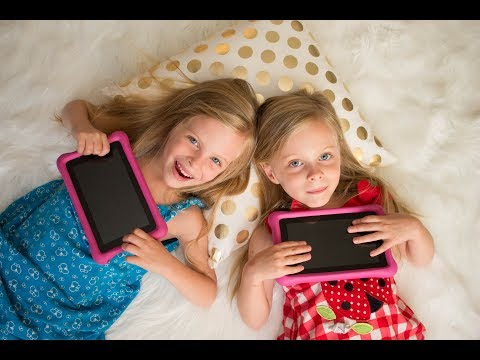 The stories that read to your child
Finding out about these made me do a happy dance, because for the longest time I didn't think the books read to your child. There plenty of books available for free on the Kindle Fire Kids Edition, but it would be nice if the girls could enjoy a story on their own every now and then. 
The parental controls
We do try and limit screen time with our kids, and thankfully the makers of the Kindle Fire Kids Edition get that. You can set time limits for how long your kids use their tablet and customize the bedtime curfew so they're not sneaking out of bed at crazy hours to check on their Toca Life: City (like Sim City but way cooler and kid-friendly!). The parent dashboard tells you what your child played and read during their time on the tablet. You can even set "learn first" controls so that your child must do some reading before he/she can start playing games. 
The price
We got our tablets with one payment, but I noticed that now you can choose to pay in 5 payments of $26.00. That's so do-able! The tablets come with one year of FreeTime Unlimited, which gives you access to all the books, apps, and videos. After that it's as low as $2.99/month for Prime members.
While I'm not a huge fan of having my kids on electronic devices, technology is an inevitable part of the future for their generation. I appreciate that Amazon understands what's important to kids and parents when it comes to a tablet. Our kids have enjoyed their tablets for almost a year, and I'm so glad to say that they are a purchase I don't regret.
Do you have a tablet in your home? What do you look for in a tablet/e-reader?