I never learn my lesson. We've had this issue with 4 children so far, and I make the same mistake with all of them. In the middle of the night, the youngest one stumbles out of his room and into my bed. Part of me is too sleepy to bother with getting up and tucking him back into his own little bed. But the other part of me, the part that regrets letting him sleep in my bed every single time, thinks it would be sweet and cozy to snuggle up next to him the rest of the night. 
Have you ever tried to "snuggle" a toddler? They are not snuggly. At least none of mine have been. They're all feet and elbows and smushing into you and stealing your pillow. I fully support any mamas who can handle cosleeping, but it's just not for me. I get up at 4:30 for work and my beauty sleep is priceless!
Lately we've been trying to get Johnny back into the habit of staying in his bed all night. In all fairness, we're totally to blame for his nightly bed-switching. We just got lazy and started letting him fall back asleep in Mommy's and Daddy's bed instead of sending him back to his room with his sisters. He's definitely old enough to sleep in his bed, so now it's up to us to help him start a new habit. 
The key to helping your child stay in bed at night is consistency.
You have to stick to your plan. They say it can take 30 days to form a new habit, so you have to give your plan plenty of time to work. Whatever you decide to do for a reward system (and experts do recommend a reward system and not consequences for toddlers), do your best to stay with it. Children thrive on routines and predictable activities. After a week or so, your toddler will probably be reminding you about it anyway!
Bedtime routines can be fun!
Our bedtime routine starts shortly after dinner. The kids know that after dinner they have a bath, then a snack of fruit or a cracker, then teeth brushing, and into bed they go. You could also add a favorite song or story to your child's routine. We recently started using this cute bedtime reward system from SleepBuddy™. It's a complete sleep system that also comes with a colorful book, incentive chart and even stickers! 
The customizable clock lets you set your child's preferred bedtime and the time he should be waking up. The little light turns a soft blue or amber when it's time for him to go to bed. The light turns off to let him know that it's ok to get out of bed at the scheduled "wake time" in the morning .   
Johnny loves his SleepBuddy. The light is soft enough so that it doesn't bother his sisters, who he shares a room with. But it's nice to look at and I honestly think it helps him calm down a little. He's already started adding stickers to his chart to get a reward. The way things are going, I think he'll be earning a trip to the frozen yogurt shop very soon! 
The parents guide included with the SleepBuddy system has reward ideas, parenting tips, and a manual on how to customize the clock on your SleepBuddy. 
Add SleepBuddy to your cart the next time you're shopping on Amazon. This sleep system has been a great help in our family, and I know your little one would love having his own SleepBuddy. It also makes a great gift!  
I tried using a reward system with Emily to help her learn to stay in her bed all night. It was just a simple sticker chart, but it worked pretty well for what we needed. Now, with Johnny, he's got his own personalized sleep system. He gets excited to go to bed and watch the blue "bedtime" light turn on. And the best part is that I've had a blissful night's sleep ever since our SleepBuddy came in the mail! Check out our unboxing video below.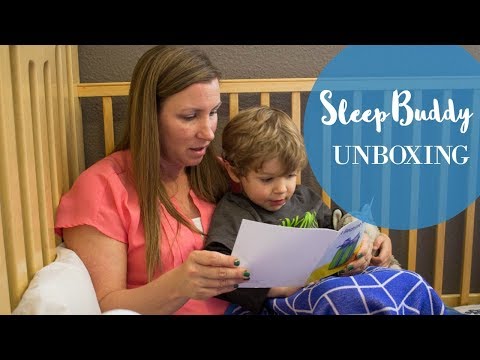 Visit the SleepBuddy website and Facebook page for more information.
Do you know a toddler or preschooler who needs a SleepBuddy?