This shop has been compensated by Collective Bias, Inc. and its advertiser. All opinions are mine alone. #OneTreeOneBag #CollectiveBias
One of the values I'm teaching my kids is "stewardship" because children need to be taught how to take care of things. They have to be shown the importance of caring for everything from their own personal items to the planet that belongs to all of us. Even though I don't have a lot of time, there are still plenty of easy ways to help the environment. Here are just a few:
3 Easy Ways to Help the Environment
These 3 ideas take little to no effort on my part, but they still make a positive impact on the planet's resources.
Conserve Water by Gardening with Succulents
My dad has a huge collection of succulents. What's great about these plants is how easy they are to care for. You pretty much water them every month or so, and leave them in the sun all the time. Even a busy mom like me can find time to water a plant once a month! I'm really trying to do more "upcycling", so he helped my girls and I plant some succulents in repurposed "pots". Check out our video to see how it went!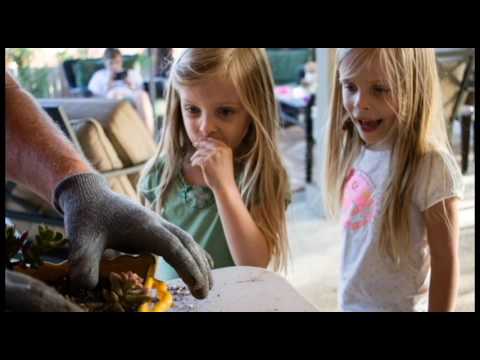 Shop with Reusable Bags
Last November, California voted to ban the use of disposable plastic bags. In spite of that, some businesses can still offer disposable plastic bags to their customers because they don't fall under the statute. But even if you are outside of California, it's a good idea to keep a few reusable bags or paper bags in your car for when you're out shopping. I always carry a reusable bag in my big ol' Mom-sized purse/diaper bag for unplanned shopping trips. I usually have to pop in to my local Albertsons store a few times a week for something that we forgot on our weekly shopping trip. Last week I saw something on my last trip to the store that made me think of the next easy way to help the environment. 
Shop Products that Help the Environment
Last week I was in Albertson's and saw this display for coffee.
If you know me, then you know how integral coffee is to my sanity daily routine. Imagine my excitement to find out that I could actually be drinking coffee, like I do every day, and supporting a company that gives back at the same time! Here's how it works: For every bag of Starbucks® 12-oz. & 20-oz. Ground or Whole Bean coffee purchased at participating Albertsons Company stores in the U.S. from May 1st through May 28, Starbucks will donate 70¢ to Conservation International to foster thriving coffee communities. To learn more, visit conservation.org/onetree
This week I'm brewing Starbucks® Pike Place® Roast in my coffee maker. And, with little effort on my part, my purchase is helping to provide a disease-resistant coffee tree to a needy farmer (thanks, Starbucks!). Next week I might try a bag of Veranda Blend® or French Roast.
Check out the special Starbucks "One Tree One Bag" commitment display in the coffee aisle!  
You can find these coffees and other great Starbucks® products here and add them to your shopping list! Who could you buy some Starbucks® 12-oz. & 20-oz. Ground coffee for, and help Starbucks support farming communities while you're at it?
Pike Place is a registered trademark of The Pike Place Market PDA, used under license.